Communications 

Global Initiatives regularly communicates to a wide variety of audiences, including international faculty, scholars and students, partner universities, external stakeholders and campus partners who work with our international community. Our offices provide up-to-date and comprehensive information on topics such as immigration and policy changes, programs and activities, advocacy efforts, campus internationalization objectives and many other issues.
CLICK ON THE OFFICE ICONS BELOW FOR NEWS, UPDATES AND PUBLICATIONS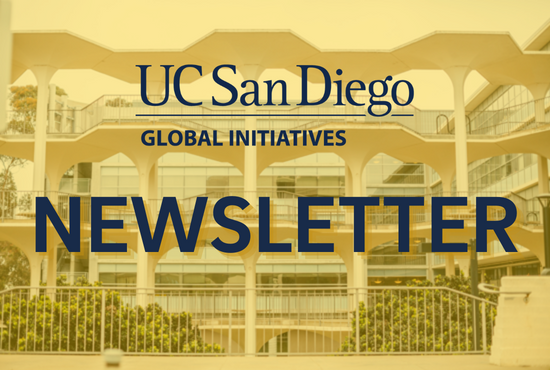 Quarterly Newsletter
Our newsletter informs campus partners on the latest internationalization efforts at UC San Diego. The newsletter always contains resources on how our offices can support faculty and staff interested in global activities and initiatives.
View Past Global Initiatives Newsletters:
Fulbright Day 2022
Dr Michael Pratt Receives Fulbright Distinguished Chair Award in Czech Republic
Symposium on Enhancing the Experiences of Students from Asian, Pacific Islander and Middle Eastern Descent
Miguel Velez Latin American Student Scholarship Recipients Announced
ISPO Programming Supports Students and Advances EDI
Study Abroad Recognized for Increasing Access to International Opportunities for All
IFSO Supports 1500 international students and scholar with tax obligations in U.S.
IFSO's Commitment to EDI
Statement on the Conflict in Ukraine
Fulbright Catalog of Awards for 2023-24 Now Open
Save the Date: Fulbright Day- April 14, 2022
International Scholar Spotlight: Dr Pedro Hallal
Alumni and Employer Interactive Maps Now Available
Fall 2021 International Student Snapshot
Global Seminars 2023 Requests for Proposals
SPRING 2021

Lead Story:

Global Education's Resilience and Response to the COVID-19 Pandemic

Study Abroad

UC Education Abroad Program Awards Academic Integration Grant to Eleanor Roosevelt College

Spotlight: Study Abroad Faculty Directors

ISPO

ISPO Launches UC San Diego's First International Graduate Recognition Website

IFSO

Streamlining Visa Processes Through the Pandemic

Building (Virtual) Community



WINTER 2021

Lead Stories

Save the Date: Fulbright Day 2021- April 15
Fulbright U.S. Scholar Program Catalog of Awards Available for 2022-23

ISPO

10 Things To Consider When Supporting International Students Guide for Campus
Globally Engaged Tritons Co-Curricular Record

Study Abroad

Hacker Exchange Great Global Challenge: Call for Applications
Global Seminars Call for Proposals Summer 2022

IFSO

Revamped Scholar Spotlight



FALL 2020

Lead Stories

New Fulbright Distinguished Chair in Public Health
Two New Student Exchange Programs in Switzerland
Triton Tools and Tidbits Podcast Features International Education at UC San Diego

ISPO

UC San Diego has Eighth Largest International Student Population in U.S.

Study Abroad

Study Abroad Co-Hosts UC-wide Study Abroad Virtual Expo

IFSO

International Scholar Discusses Life and Research Before and After the Pandemic



SUMMER 2020

Lead Stories

Global Education Responds Swiftly to Immigration Changes
Globally-Focused Programming Continues Through the Summer Virtually

ISPO

New International Student Orientation 

Study Abroad

Virtual Abroad and "Study Away" Programs

IFSO

Scholar Snapshot 
Understanding Presidential Proclamations Webinar