Zurich University of Applied Sciences
ZURICH UNIVERSITY OF
APPLIED SCIENCES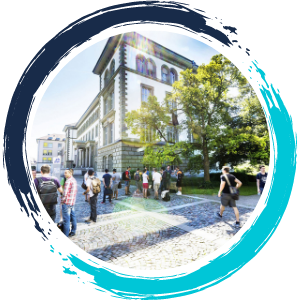 Engineering students are eligible to study abroad at one of the world's top engineering schools! The Zurich University of Applied Sciences (called ZHAW for its initials in German and pronounced seta haw) School of Engineering is located in the economic powerhouse of Switzerland, a country ranked first in the world for innovation.The Global Exchange Program at ZHAW provides an incredible opportunity for students to study, conduct research, network, and live in one the world's most developed countries.
Though Zurich is located in the German (or Swiss-German to be more precise) part of Switzerland, students can study and live easily in this international city without German language skills. 
Click HERE for the flyer with information on the Global Exchange Program with ZHAW. 
Click HERE for the ZHAW School of Engineering International Website.
Click HERE for the ZHAW Information Brochure for International Students
Click HERE for the incoming exchange fact sheet. 
Program Deadlines | 2022-2023
If you want to participate in any of the Global Exchange Programs during the 2022-2023 academic year, you must submit your application in TritonsAbroad by the following dates:
For Fall 2022 Programs - Tuesday, March 1, 2022
For Winter/ Spring 2023 Programs - Saturday, October 1, 2022
For more information, visit studyabroad.ucsd.edu and contact a Study Abroad advisor. 
Exchange Details:
Academic Level: Undergraduate (Third and Fourth Year)
Eligible Major(s): Mechanical and Aerospace Engineering (MAE) and Electrical and Computer Engineering (ECE) majors.
2022-23 Academic Calendar:
Fall Semester: September 19, 2022 - January 30, 2023
Spring Semester: February 21, 2023- June 28, 2023
Click HERE for a complete academic calendar for 2021-2022.
Students are expected to arrive at least one week before the beginning of a semester for orientation.
Given that the academic calendar does not align with that of UC San Diego, students do have the option to leave before the final examination period to start the next quarter. The Global Exchange Program coordinator can facilitate this process.
Full Time Enrollment: 30 ECTS (14 weeks of classes) with a minimum enrolment of 16 ECTS. Individual lessons are 45 minutes each and modules usually consist of 2-4 weekly lessons. Depending on the workload, each module is worth between 3 and 6 ECTS. 


Courses:  Click HERE for courses in English.


Language of Instruction: English.


Courses in German: Should students want to study in German, they require at least a Level B2 proficiency in German. An intensive German course is offered during the summer by a partner university in Konstanz, Germany. More information on that program can be found HERE. Students can also study German for beginners at ZHAW.
Students are responsible for their own housing and accommodation. For more information, click HERE.
Cost of Living: Approximately 1,500- 1,800 Swiss Francs (CHF) per month. More information can be found HERE.
There are multiple options for students to apply and receive additional financial support for studying in Switzerland:
ZHAW SoE Scholarship: Incoming Exchange Students have the opportunity to apply for a ZHAW School of Engineering (SoE) Scholarship (CHF 3,000.00 maximum for overseas students per semester). This scholarship is based on both academic merit and financial need. Information on how to apply will be included in your letter of acceptance.
For more information on financial aid, scholarships and additional funding, speak to a Study Abroad Advisor or click HERE.
U.S. citizens must obtain a student visa or residence permit to study in Switzerland. For other citizenships, visit the website of the Swiss Embassy or Consulate in your country of citizenship for visa requirements and processes. 
Visa Processing Time: 

Due to the pandemic, students should visit the website of the Swiss Embassy in the United States or nearest consulate for updated information.
Links:
Links:
English is widely-spoken in Switzerland and students can find English-speaking doctors if needed.
Mental wellness and support for students with disabilities are available and can arranged on an individual basis. 
Research Opportunities- Students have the opportunity to work on industry-based projects during the semester and carry out larger industry-based projects for two to three months as an internship. These are usually worth 6-8 ECTS.
For internships (separate from industry-based projects), this is possible but needs to be discussed on an individual basis. For students wishing to pursue an internship in Switzerland, potential funding is available to students through the ThinkSwiss Program.
Recreational- The ASVZ offers all university members an attractive and varied sports program, which offers plenty of opportunities to discover new activities and partake in traditional sporting, fitness and recreation programs.
Social Activities- The local Erasmus Student Network on campus organizes various activities and excursions throughout the academic year for international exchange students. Additionally, social events will be planned during welcome week and orientation.