UNIVERSITÄT TÜBINGEN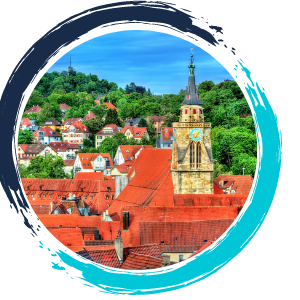 Who wouldn't want to study in the picturesque town of Tübingen? In between the city of Stuttgart and the Swiss border, Tübingen (or "Tübi" as it is referred to by locals) is one of the most renowned German universities and, like UC San Diego, emphasizes interdisciplinary study and research in their graduate programs. 
Nearly 4,000 international students are enrolled at the university. Together with around 1,000 researchers from other countries, they make Tübingen a city of global academic and cultural exchange. The University's excellence in research offers optimal study conditions to students who come to Tübingen, combined with the opportunity to emphasize individual interests along the way. The attractive study environment is reinforced by many additional services, such as the Language Center, interdisciplinary lectures in the Studium Generale and the state‐of‐the‐art University Library. 
Click HERE for the flyer with more information on UC San Diego's exchange with Tübingen.
Click HERE for Tübingen's international exchange website.
Program Deadlines | 2022-2023
If you want to participate in any of the Global Exchange Programs during the 2022-2023 academic year, you must submit your application in TritonsAbroad by the following dates:
For Fall 2022 Programs - Tuesday, March 1, 2022
For Winter/ Spring 2023 Programs - Saturday, October 1, 2022
For more information, visit studyabroad.ucsd.edu and contact a Study Abroad advisor. 
Exchange Details:
Academic Level: Graduate
Eligible Major(s): Campuswide
2021-22 Academic Calendar:
Winter Semester: October 18, 2021 - February 12, 2022
Summer Semester: April 19, 2022 - July 30, 2022
Student should arrive by October 1 for the Winter Semester ( or September 1 for language and orientation courses) and April 1 for the Summer Semester (or April 1 for language and orientation courses). 
Classes in the summer and winter semester start on the Monday of April (summer semester) or October (winter semester) which is closest to the 15th of that month. Classes end on the Sunday 13 weeks after the term starts in summer semester and 18 weeks after the the term starts in the winter semester. 
For more information, including breaks, holidays and exam schedules, please visit Tübingen's academic calendar for international and exchange students. 
Full Time Enrollment: Thirty (30) ECTS per semester. It is recommended that students take two (2) lectures and two (2) seminars.


Course Catalogue:
Language of Instruction: English.
German Language and Culture Courses: Yes. Tübingen offers more than 50 different courses per semester and they can be found on the German as a Foreign Language and Intercultural Programs website. Participants do not have to pay any fees, only course material, excursions etc.
Beginner courses in German (A1/A2 level) are also available free of charge for exchange students, but spaces are limited. 
Restricted Courses: 

Faculty of Medicine courses.
Exchange students are responsible for arranging their own housing. As an exchange student, housing in one of the
student dormitories is guaranteed given that your application is complete and on time. More information on accommodation can be found HERE. 
On-Campus/ Off-Campus Housing: It is recommended that students try to live in student dormitories. Private, off-campus accommodation is generally expensive and many landlords do not want to give short-term (one or two semester) leases due to the highly competitive market. 
Application: Students apply online for housing. 
Housing Deadline: You can make applications for the winter semester from April 1 onwards. The same process for the summer semester starts on 1 October.
Cost: Rent is typically between 230 and 350 Euros/ per month. There is also a 400 Euro security deposit when you first move in.
Dining Options: Shared kitchens, canteens and cafés.
Cost of Living: More information coming soon
Additional Fees: Exchange students will be required to pay a student services fee (around 88 Euros per semester) to the Studierendenwerk (governmental social service organization connected to German universities). The fee is mandatory for all students (also the German students) and subsidizes the semester bus ticket, meals at the cafeteria, rent at dormitories, kindergarten for students´ children, as well as free psychological and legal advisors.
UC San Diego students can apply for the Baden-Württemburg Scholarship which is typically 700 Euros per month. The deadline to be nominated for the scholarship is in March the year before for both the Winter and Summer semesters. For more information, speak to a Study Abroad advisor. 
For information on financial aid, scholarships and additional funding, speak to a Study Abroad advisor or click HERE.
U.S. citizens can enter Germany and then apply for a student residence permit as part of the matriculation process. Nevertheless, any student should consult the website of the German Embassy or Consulate for up-to-date information.
For other citizenships, visit the website of the German Embassy in your country of citizenship for visa requirements and processes.
Visa Processing Time: 

Due to the pandemic, students should visit the website of the Embassy of Germany in the United States or nearest consulate for updated information.
Links:
German Health Insurance:

In Germany health insurance is mandatory while you study at a German university. Student health insurance is possible until the age of 30. It costs approximately 90 Euros per month and is valid throughout the EU.

Upon matriculation you either need to prove that you are insured or provide evidence of an exemption. One exemption is that your current insurance provider or plan provides adequate overseas health coverage that would be sufficient for Germany. 
Buddy/ Peer Mentor Program: Yes. Click HERE for more information.
Excursions/ Sightseeing: Yes. Click HERE for information on cultural activities happening in Tübingen
Social and Recreational Activities: