KYOTO UNIVERSITY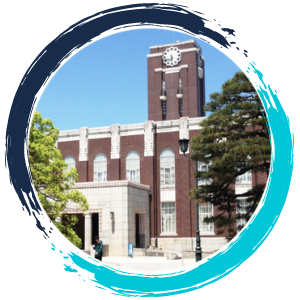 Japan is one of UC San Diego's most popular study abroad destinations. To meet the demand of our students, undergraduates can now study at Kyoto University!  Kyoto University is the second oldest university in Japan and is located in the heart of the country's historic capital. In addition to studying at a world-class university, students can explore this ancient and fascinating city full of food, culture, art and history! 
Click HERE for the flyer with information on the Global Exchange Program with Kyoto University. 
Click HERE for Kyoto University's student exchange website.*
 *UC San Diego students are considered students within the Kyoto University International Exchange Program (KUINEP). 
EXCHANGE UPDATE FOR 2022-23 
Unfortunately, due to significant delays in student visa processing to Japan,
UC San Diego has decided to cancel the exchange program with Kyoto University for Fall 2022 Quarter
. 
For those that are interested in participating in the exchange, contact a Study Abroad Advisor to explore other opportunities or to plan ahead to study abroad at Kyoto in Spring 2023.
Program Deadlines | 2022-2023
If you want to participate in any of the Global Exchange Programs during the 2022-2023 academic year, you must submit your application in TritonsAbroad by the following dates:
For Fall 2022 Programs - Tuesday, March 1, 2022
For Winter/ Spring 2023 Programs - Monday, August 1, 2022
For more information, visit studyabroad.ucsd.edu and contact a Study Abroad advisor. 
Exchange Details:
Academic Level: Undergraduate
Academic Years: Junior and Senior
Eligible Major(s): All Majors/ Campuswide Exchange
2022-2023 Academic Calendar:
Fall Semester: October 1, 2022 - February 7, 2023
Spring Semester: April 1, 2023 - August 8, 2023
For Fall, students should arrive in country by late September. For Spring, students should arrive by late March. 
For a detailed academic calendar that includes breaks, holidays, exam schedules and dormitory move-in dates, click HERE
Full Time Enrollment: Seven (7) courses per semester*


English Language Course Catalog: Click HERE
To Search All Courses: Click HERE. 
Language of Instruction: English and Japanese. For students who wish to take courses taught in Japanese, they must pass N1 of the Japanese Language Proficiency Test (JLPT). Students can also have their language abilities assessed by a UC San Diego faculty member who can attest that the student has the proficiency to study at a university level. Please discuss this option with a Study Abroad advisor.
Japanese Language Courses: Exchange students can study Japanese language courses at the absolute beginner, intermediate, and advanced levels.
Restricted Courses: 

Courses offered in the Faculty of Medicine are not available to exchange students.
Courses to learn languages other than Japanese are not available to exchange students.
*Students have a grace period of two weeks at the beginning of each semester to change/ add/ drop courses. 
There around 10 dormitories owned by Kyoto University has approximately ten dormitories managed by cooperation with
other organizations. Exchange students are usually offered a place in these dormitories but it is not guaranteed. Housing options and resources can be found HERE.
Housing Deadline for Fall: July 15, 2022
Housing Deadline for Spring: January 15, 2023
Students apply for housing using an online system. Instructions on how to apply are sent to the student after they are accepted by Kyoto University. Students can list dormitories by preference.
On-Campus/ Off-Campus Housing: Some dormitories are on campus (a few minutes walk to classrooms) while others are off campus (20 minutes by bicycle or 90 minutes by train).
Housing for International Students: Yes.
Dining Options: Cafeterias and Dining Halls.
Average cost of living (including accommodation, insurance, study materials,
transportation, meals and incidentals): $1000 USD/ month.
Any additional university/ fees costs to participate: No.
Exchange students to Japan can apply for the JASSO Scholarship which is 80,000 JPY/ month. This scholarship is highly competitive. 
For information on financial aid, scholarships and additional funding, speak to a Study Abroad advisor or click HERE.
U.S. citizens must obtain a student visa to study in Japan. For other citizenships, visit the website of the Japanese Embassy or Consulate in your country of citizenship for visa requirements and processes.
Certificate of Enrollment: Students will need a Certificate of Enrollment from Kyoto University as part of the visa application process. Students will receive a Certificate of Enrollment and a Certificate of Eligibility after they are admitted to Kyoto University.
Visa Processing Time: The approximate time it takes to receive a student visa is one month. 

However, due to the pandemic, students should visit the website of the Embassy of Japan in the United States or nearest consulate for updated information.
Links:
Medical Facilities: Kyoto University has a large hospital, several small clinics and a counseling center on campus.
Japanese Health Insurance: Students should buy travel insurance to cover travel to and from Japan. Upon arrival, students must purchase Japanese National Health Insurance and liability insurance (approximately $30 USD/ month).
English-Speaking Doctors: Yes. 
Access to Mental Health Resources: Yes.
Support for Students with Disabilities: Yes. Kyoto University has a professional office to support students with disabilities. 
Research Opportunities: Not during the exchange. For research and internship opportunities, including summer programs, speak to a Study Abroad advisor. 
Buddy/ Mentor Program: Exchange students can be paired with a local Japanese student who can assist in acclimating to the country. 
Social Activities: The International Office arranges monthly events to experience Japanese traditional culture. Kyoto University also has a language exchange program for those who want to practice Japanese and help a local student practice English or another language. 
Excursions/ Sightseeing: Some events are organized; events and activities depend on a year-by-year basis. 
Recreation/ Sporting Activities and Clubs: Some clubs and sporting organizations will invite exchange students to participate.