The Swiss Federal Institute of Technology in Lausanne (EPFL)
THE SWISS FEDERAL INSTITUTE OF
TECHNOLOGY IN LAUSANNE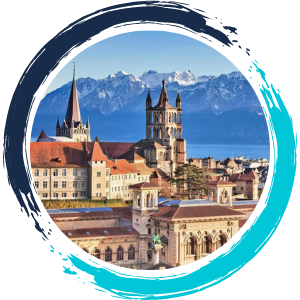 The Swiss Federal Institute of Technology in Lausanne (or EPFL for its French acronym) is an idyllic study abroad destination. Lausanne is the fourth largest city in Switzerland and has been known as the Olympic capital of the world since 1994. With Lac Léman (Lake Geneva) on one edge of the city and the Jura Mountains on the other, there is a breathtaking view no matter where you look. Lausanne is located in the French-speaking part of Switzerland, and both France and Geneva are only a boat-ride away!
EPFL's internationally renowned School of Basic Sciences offers UC San Diego students English-language courses in Physics, Mathematics, Chemistry and Biochemistry and access to research opportunities in one of EPFL's labs.
Click HERE for the flyer with information on the Global Exchange Program with EPFL
Click HERE for EPFL's international exchange website.
Click HERE for the "Welcome to EPFL" brochure for incoming students.
Program Deadlines | 2022-2023
If you want to participate in any of the Global Exchange Programs during the 2022-2023 academic year, you must submit your application in TritonsAbroad by the following dates:
For Fall 2022 Programs - Tuesday, March 1, 2022
For Winter/ Spring 2023 Programs - Saturday, October 1, 2022
For more information, visit studyabroad.ucsd.edu and contact a Study Abroad advisor. 
Exchange Details:
Academic Level: Undergraduate
Eligible Major(s): Physical Sciences (Chemistry and Biochemistry, Physics and Mathematics)
2022-23 Academic Calendar:
Fall Semester: September - December 2022
Spring Semester: February - July 2023
Options for Remote Final Exams: Students can ask for remote exams according to the procedure you can find on this page (see exams). There is no guarantee that the professors accept to organize a remote exam. Students can also look for courses that have an exam during the semester.
It is advised for students to arrive at least one week prior to the beginning of each semester for welcome events and other activities that support students acclimating to EPFL.
For more information on the academic calendar, including registration dates, holidays and exam periods, click HERE.
Full Time Enrollment: 30 ECTS credits per semester (approximately 22-25 semester hours per week). Students should enroll in at least 20 ECTS/ semester


Courses:  UC San Diego students study courses in EPFL's School of Basic Sciences. 

A list of Bachelor courses in English can be found HERE. 
A list of Master courses in English can be found HERE. Please note for any undergraduate student who wishes to take a Master course, you will most likely need approval from the EPFL faculty member to ensure you have the sufficient pre-requisites to take the course. 
A complete course catalog can be found HERE. 
Faculty in the Division of Physical Sciences are identifying course that students can take at EPFL that would count towards degree requirements at UC San Diego. For more information, consult a Study Abroad Advisor. 
Restricted Courses: Click HERE to find out which courses are restricted to exchange students. 


Language of Instruction: English and French. Exchange students have the option to study French language courses if they feel they have the technical fluency. The complete course catalog has all course offerings and notes the language of instruction. That list can be found HERE. 


Courses in French, German and Italian: Students can take various language courses at different levels (upon availability), including an intensive French course before each semester. Language courses during the academic year are offered if there is sufficient demand for them. Information on French language modules can be found HERE. 
Housing is pre-arranged/ guaranteed for exchange students. Campus housing includes student Halls and private residences. Click HERE for EPFL's Housing website with links, resources and application deadlines.
Click HERE for a breakdown of cost of living for exchange students (in French and English).
For information on financial aid, scholarships and additional funding, speak to a Study Abroad advisor or click HERE.
U.S. citizens must obtain a student visa or residence permit to study in Switzerland. For other citizenships, visit the website of the Swiss Embassy or Consulate in your country of citizenship for visa requirements and processes. 
Certificate of Enrolment- You will receive an acceptance letter from EPFL that you can submit with your visa application. A student visa takes approximately 3 months so students should apply as soon as they receive the letter. 
Visa Processing Time: 

Due to the pandemic, students should visit the website of the Swiss Embassy in the United States or nearest consulate for updated information.
Links:
Click HERE for information on Swiss heath and accident insurance. 
Students have access to English-speaking doctors at EPFL.
EPFL students are also automatically enrolled in AGEPoly, the General Student's Association. AGEPoly provides various resources for students on health and and well-being.
Recreational- The EPFL Sports Center offers students access to sports, group lessons, workshops, and a gym.
Social Activities- With almost ninety student associations on campus, the EPFL community enjoys a
dynamic study environment with many weekly events fostering diversity. During the third week of studies, discover the stands of all associations on the Esplanade, between 12:00 and 1:30 PM. Click HERE for more information on Student Associations. EPFL students are also automatically enrolled in AGEPoly, the General Student's Association. AGEPoly organizes athletic and social events for all students. Additionally, the Erasmus Student Network at EPFL organizes many events and excursions off campus during the semester. The also organize a buddy system with a local student. 
For information on the EPFL Research Internship Program, visit the Global Exchange Program Plus page for details. 
Participants in the EPFL Research Internship Program will receive a scholarship for participation. Students should also visit the ThinkSwiss Program page for funding for this or other research and internship opportunities. 
Students may also have the possibility to undertake credited projected with a professor during an exchange semester alongside courses.