ÉCOLE POLYTECHNIQUE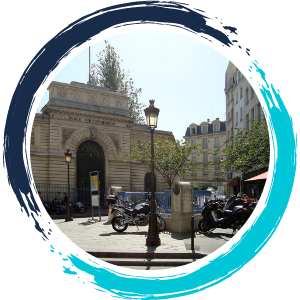 From San Diego to the Seine, undergraduate STEM students have the opportunity to study at one of Europe's premier universities for science and technology, École Polytechnique (EP)! EP's campus is located south of Paris on beautiful pastoral property complete with an equestrian center and a lake. Exchange students are enrolled in EP's Bachelor of Science Program, which is a Mathematics-based degree program with specialized tracks in Physics, Economics or Computer Science. The program is entirely taught in English, so no French language skills are necessary to participate. This exchange program is rigorous, but incredibly rewarding for those who participate!
Click HERE for the flyer with information on the Global Exchange Program with EP. 
Click HERE for EP's international exchange website.
Click HERE for EP's international exchange brochure.
Program Deadlines | 2022-2023
If you want to participate in any of the Global Exchange Programs during the 2022-2023 academic year, you must submit your application in TritonsAbroad by the following dates:
For Fall 2022 Programs - Tuesday, March 1, 2022
For Winter/ Spring 2023 Programs - Saturday, October 1, 2022
For more information, visit studyabroad.ucsd.edu and contact a Study Abroad advisor. 
Exchange Details:
Academic Level: Undergraduate
Academic Years: Junior and Senior (the second year of the Bachelor's Program is generally the most popular)
Eligible Major(s): STEM majors. Computer Science and Engineering, Economics, Mathematics and Physics majors are strongly encouraged to apply. 
Additional Eligibility Requirements: Students must have a minimum 3.0 GPA out of 4.0 to apply. 
2021-22 Academic Calendar:*
Fall Semester: September - December 2021
Spring Semester: April 2022 - June 2022
* Please note that EP has one application deadline for students who wish to study during the Fall, Spring or Academic Year. Therefore, if you wish to study at EP during the Spring semester, please contact a Study Abroad advisor prior to March the year before to make sure you have your application finalized in time. 
The International Mobility Office organizes orientation days 3-5 days prior to the beginning of each semester to find their way around campus and provide them with the necessary tools for a successful exchange period. EP recommends that all exchange students participate in this activity. 
Full Time Enrollment: Minimum twenty (20) and maximum thirty (30) ECTS per semester.


Course Catalogue:
Language of Instruction: English. The exchange with EP is with the Bachelor of Science program which is entirely taught in English (even for French students). For courses in which the language of instruction is French, exchange students can take one to two electives per semester offered by the Department of Humanities and Social Sciences, depending on availability (exchange students also have access to English-taught courses as electives in this Department as well). Student who wish to take courses taught in French will have to provide some sort of documentation demonstrating their proficiency in French (at least at B2 Level). EP will also accept a letter of endorsement from a French-speaking faculty member at UC San Diego. Contact a Study Abroad advisor for more details. 
French Language Courses: Exchange students can study French depending on level and availability; levels offered range from beginner to advanced (A1- C2).


Restricted Courses: 

The Master of Science and Technology Program Data Science for Business Program (MSc&T) is not open to exchange students. For scientific projects and research internships, due to limited seats, final enrollment will depend on the approval of the course instructor. Exchange students cannot enroll in classes taught as part of the 2nd year of a MSc&T.
École Polytechnique arranges on-campus housing for exchange students, if and where possible. Exchange students take priority in allocating housing, but it is entirely based on availability for the semester(s). Housing options, resources and application information and deadlines can be found HERE. 
On-Campus/ Off-Campus Housing: EP has 1,500 housing units on campus for students. Some rooms are available on the campus or nearby for students participating in the internship program or for students on academic exchange during the Fall semester or the Full academic year. Please note that students on academic exchange during the Spring semester are not guaranteed on-campus housing and may need to make other arrangements.
EP will provide students with relevant information and advice on self-arranged accommodation. More information can be found HERE.The application portal to apply for housing can be found HERE.
Dining Options: Kitchens in Residence, Cafeterias and Cafés.
Average cost of living (including accommodation, insurance, study materials,
transportation, meals and incidentals):

€800/ month. This amount does not include personal expenses, which depend on the requirements of each individual student.

Any additional university/ fees costs to participate: No.
Fellowships are given in priority to student doing an internship; EP does not have any fellowships or grant for students participating in an academic exchange. 
For information on financial aid, scholarships and additional funding, speak to a Study Abroad advisor or click HERE.
U.S. citizens must obtain a student visa to study in France. For other citizenships, visit the website of the French Embassy or Consulate in your country of citizenship for visa requirements and processes.
Letter of Admission After admission, students will receive an admission letter by email. Only students who need to apply for a visa can receive an original copy of their admission letter by express mail.
Visa Processing Time: 

Due to the pandemic, students should visit the website of the Embassy of France in the United States or nearest consulate for updated information.
Links:
Medical Facilities On Campus: EP has an on-campus medical facility that is divided into four areas: medical services, preventative care, psychological services and social services. Exchange students have access to all of them.
Support for Students with Disabilities: Yes.
French Health Insurance:

All students staying in France for at least 6 months must be affiliated with the French Healthcare System. All students must have liability insurance. 

All students attend a mandatory medical visit once on campus; some documents have to be completed during the enrollment process.
Research Opportunities: A research internship of the 3rd year of the Ingénieur polytechnicien Program is open under certain conditions to exchange students enrolled at graduate level and willing to join us for a full academic year.
Excursions/ Sightseeing: Some events are organized; events and activities depend on a year-by-year basis. 
Recreation/ Sporting Activities and Clubs: Exchange students have access to all the recreational facilities on campus. Click HERE for more information on clubs, sports and other extracurricular activities on campus.
The Internship Program for International Students gives UC San Diego undergraduate and graduate students the opportunity to complete a 3- to 6-month internship at one of École Polytechnique's research facilities. More information on the program can be found HERE.
In order to participate, you must first be nominated by UC San Diego to apply for the program. More information on the nomination process coming soon.
Program details for 2022 coming soon.