BAUHAUS-UNIVERSITÄT WEIMAR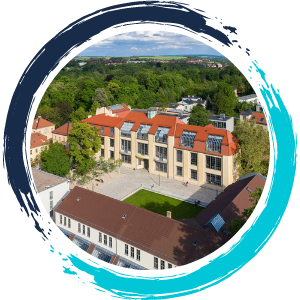 Bauhaus-Universität Weimar (BuW) is located in between Frankfurt and Berlin and is the birthplace of the world-famous Bauhaus style of architecture. Undergraduate students in the Department of Urban Studies and Planning (USP) can spend a quarter or more at this iconic university that is also a UNESCO World Heritage Site! 
Our exchange with BuW was one of the first Global Exchange Programs that UC San Diego launched and to date has been one of the most successful programs because of the strong connections between our two universities. BuW's Faculty of Architecture and Urbanism is one of the largest in Germany and has something to offer for everyone!
Click HERE for the flyer with information on the Global Exchange Program with BuW. 
Click HERE for BuW's international exchange website.
Click HERE for BuW's fact sheet for exchange students.
Program Deadlines | 2022-2023
If you want to participate in any of the Global Exchange Programs during the 2022-2023 academic year, you must submit your application in TritonsAbroad by the following dates:
For Fall 2022 Programs - Tuesday, March 1, 2022
For Winter/ Spring 2023 Programs - Saturday, October 1, 2022
For more information, visit studyabroad.ucsd.edu and contact a Study Abroad advisor. 
Exchange Details:
Academic Level: Undergraduate
Eligible Major(s): Department of Urban Studies and Planning
2022-23 Academic Calendar:
Winter Semester: October 1, 2022 - February 28, 2023
Summer Semester: April 1, 2023 - July 31, 2023
Students should arrive in Bauhaus in early September for the Winter Semester to participate in registration and welcome events and in March for Summer Semester. More information on welcome events can be found HERE.
Full Time Enrollment: Thirty (30) ECTS per semester (approximately 22 semester hours per week).


Courses: Department of Urban Studies and Planning and BuW have already identified courses that students can take at BuW that would count towards degree requirements at UC San Diego. For more information, consult a Study Abroad Advisor. Course information on these and other courses can be found HERE. 
Language of Instruction: English.


Courses in German: If you want to study courses taught in German, you must demonstrate that you have the proficiency in German to succeed in the class. Programs differ in their requirements but it is typically at A1 to B1 level. The University's Language Centre offers various foreign language courses and regular semester courses in German as a Foreign Language during the semester as well. Beginner courses in German (A1/A2 level) are also available free of charge for exchange students, but spaces are limited.
German Intensive Course:
The University's Language Centre offers a three-week online German intensive course (60 hours) in September and March under the prerequisite that a placement test needs to be taken. Instructions regarding the placement test can be found HERE. The first German language course is free of charge for exchange students from our partner universities. The course is offered the month prior to the start of the Winter and Summer Semesters.
Housing is not pre-arranged/ guaranteed for exchange students. Here is some information to support students to find accommodation:
On-Campus Housing:The International Office offers support in finding accommodation. However, the Studierendenwerk Thüringen (student service) is in charge for the allocation. It offers approximately 1100 places in single or shared apartments. The university does not have its own accommodation. The overall rent varies from about 220€ to 350€ per month including electricity, heating and water.


Application: To apply for housing, click HERE. Please pay attention to any deadlines for housing that may differ from academic deadlines. 


Off-Campus Housing: Many students in Weimar live in shared flats and houses rented from private landlords. Depending on room size and comfort the prices range between 250€ and 450€ per month. You may find a
room via different search portals such as www.wg-gesucht.de
More information can be found on BuW's exchange student accommodation website. 
Cost of Living: For housing, meals, books, health insurance and other incidentals, the cost of living is approximately 900 Euros/ month.
Additional Fees: Exchange students pay a semester fee. This enables you to pay reduced prices in the cafeteria (mensa) and you can use public transport in Weimar, Erfurt, Jena and Gera free of charge, including the regional trains between the towns. The student ID ("thoska") also costs a one-off issue fee of 20 Euros.
For information on financial aid, scholarships and additional funding, speak to a Study Abroad advisor or click HERE.
U.S. citizens can enter Germany and then apply for a student residence permit as part of the matriculation process. Nevertheless, any student should consult the website of the German Embassy or Consulate for up-to-date information.
For other citizenships, visit the website of the German Embassy in your country of citizenship for visa requirements and processes.
Visa Processing Time: 

Due to the pandemic, students should visit the website of the Embassy of Germany in the United States or nearest consulate for updated information.
Links:
German Health Insurance:

In Germany health insurance is mandatory while you study at a German university. Student health insurance is possible until the age of 30. It costs approximately 90 Euros per month and is valid throughout the EU.

Upon matriculation you either need to prove that you are insured or provide evidence of an exemption. One exemption is that your current insurance provider or plan provides adequate health overseas health coverage that would be sufficient for Germany. 
More information on health insurance can be found HERE.
Are there doctors who speak English? Yes.
Does Bauhaus provided support for students with disabilities? Yes. Click HERE for more information.